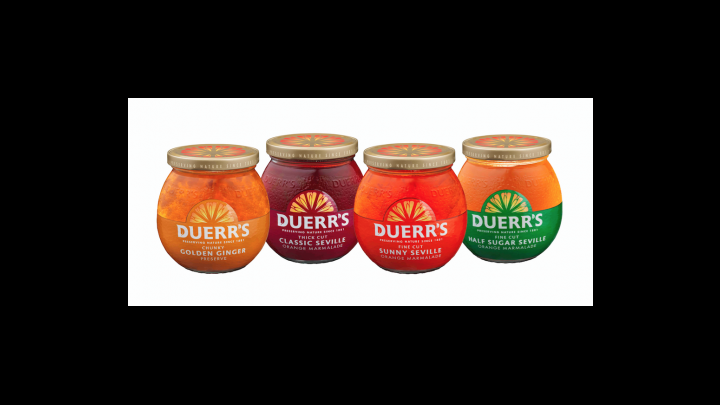 I have been a fan of Duerr's marmalade for as long as I can remember and often buy their wide variety of marmalades.
Nothing beats hot buttery toast with a high-quality marmalade topping! My late mother used to make a glorious Duerr's marmalade steamed sponge pudding. I can still smell and taste it to this day!!
Duerr's is the oldest family-owned jam maker in England. They have been making high-quality preserves to their family recipes for 135 years! Not only marmalades but also jams, mustards and tartare sauce too!
I usually buy this one
I have been sent two jars of the latest Duerr's marmalades to evaluate, Classic Seville Thick Cut and Sunny Seville Fine Cut. The other two new products are Half Sugar Seville Fine Cut and Golden Ginger. What has impressed me is the shape and design of the new jars.
The new Orbit ™️ lids makes for easy opening and the label peels off easily once the jar is empty to enable re - use for jam making etc.
Both the marmalades taste great and I shall definitely buy them again. The Classic Seville Thick Cut certainly has a 'bite' to it and the orange flavour comes through straight away. The Sunny Seville Fine Cut is more delicate and I think people who have problems chewing, may well prefer this flavour. The rind is finely cut and makes for easy eating and digestion. Being a huge ginger fan, Golden Ginger will be my next purchase!
The website is a fascinating read and there is also a section with some super recipes. If you have a recipe that you would like featured on the website, do contact them and mention my website too!
All photos copyright Duerr's and reproduced with permission.
First published on 04/03/17 on OAPSchat.co.uk.