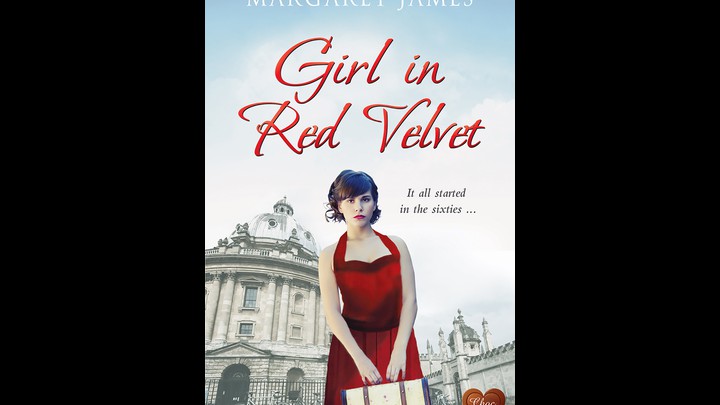 I have read and enjoyed Girl in Red Velvet by Margaret James, one of the many talented authors from Choclit and would like to share my review with you all.
This is book 6 in the Charton Minster series and spans three decades from the 60's through to the 90's. The book is told in three parts. It can also be read as a stand alone novel.
Part 1 focuses on 1966-69. Lily Denham is beginning her studies at Lady Margaret Hall University in Oxford. The year is 1966. On her first day, she is dressed in a red velvet dress and meets up with best friends Harry and Max. They christen her the 'Red Queen.' She in turn calls them Tweedledum and Tweedledee and a firm friendship is formed. They go out drinking, punting up the river and generally having an uproarious time. Harry is the more gentle of the two, studies hard and is very kind. Max however is very adventurous, takes risks and is generally a child of the 60's. Margaret's locations in Oxford are real ones and vividly took me back to visits I made there back in the dim distant past as a youngster myself!
The three years at university speed by and Lily begins to realise that she is falling for both Harry and Max and is torn between them both. However a decision is made and Lily chooses to be with dependable Harry. Max in turn goes overseas to begin a new life touring around the world and is determined to forget Lily. But can he?
Part 2 takes us through 1970-1984. The fashion business she creates starts to take off for Lily and sees her going overseas to India to buy materials for her business. Once more Margaret uses real locations and the reader feels she is there in the markets and even at a Hindu wedding. Lily is mugged one evening and is saved by Max who happens to be in the area in India where Lily is. They are both as amazed as each other to be reunited in this way. Was it meant to be?
Lily returns to England to resume her fashion business and Max continues his adventures going to places such as the Middle East and South America . Life goes on with its many dilemmas, various dramas and events taking place in the three lives of these people.
Part 3 to the late 90's 1985-1998 The final part of the book is all about making choices and facing up to realities. Will the three of them still be friends? You will have to read this book and decide whether you think they all got what they desired and deserved!
A highly recommended book, beautifully written and definitely worthy of five stars!
Marilyn Chapman
Paperback provided by the publisher www.choc-lit.com in return for an honest review
Reviews are very important to authors, and to their readers, but writing an honest review is not always easy. A teenager myself for most of the sixties, I knew I would enjoy Girl in Red Velvet - a clever take on the theme of the eternal triangle - but had no idea how much.
Firstly, the era is so well researched that the novel could have been written when the whole of Great Britain was still 'swinging.' Secondly, the writing is clever, thoughtful and carefully paced making it easy to read in two sittings. Finally, the three main characters, though they don't always behave as they should, learn a lot from their actions along the way.
In short, this is a clever love story with a happy ending.
The first book I read by Margaret James The Silver Locket, won the 2010 Reviewers' Choice Award for Single titles, and reached the Top Twenty Small Publishers Fiction list later the same year. However, of all Margaret's novels, Girl in Red Velvet is my favourite.
The details of life at Oxford University are very well researched and it's easy to see why protagonist Lily Denham, with her immense style and stunning looks, has the first two men she meets at uni vying for her attention.
What could possibly go wrong? A great read from a talented author.
Jane Risdon
Girl in Red Velvet is the first and only book I have read by Margaret James and so it was exciting to receive a signed copy from ReviewSpot.co.uk for me to read, and, if I wanted to, review.
I always feel totally unqualified to review works by other authors. I read a great deal of course, but to unpick another writer's work is daunting to say the least - added to which I am a crime writer and have no previous experience of reading romantic fiction.
Girl in Red Velvet is set in 1960's Oxford and although I lived in the county for many years, I didn't live there at the time this novel is set so I was seeing the city through new eyes which was so interesting.
Lily Denham is the young woman at the centre of a love-triangle. She goes up to Oxford University and on her first day meets charming friends Harry Gale and Max Farley. They strike up an intense friendship – they call her The Red Queen - and the novel follows the fortunes of the three as they study, graduate, and earn their living in the big wide world which opens up to them following university.
University life is as I imagined it would be. Lots of parties and intrigues and, if Lily and her friends are anything to go by, lots of sex and alcohol. Romance is in the air and you can almost taste the atmosphere as these friends punt up the river on sunny afternoons, hang out in coffee shops or have afternoon tea with Fuller's walnut cake – I can remember eating that - and visiting pubs such as The Golden Cross in Cornmarket, generally having a great time. Studying seems to have been an after-thought, but Max is able to pass exams without studying too hard whilst Lily and Harry have to swot.
There are plenty of references to life in the 1960s when everything was beginning to change socially and in the work place. I enjoyed the images painted by Margaret as she mentioned the food and beverages consumed, fashions and music, the wonderful Indian wedding Lily attended and how her future career was influenced by the beautiful fabrics and designs she experienced, eventually sending her to India seeking fabrics for her new business.
The descriptions of her time in India are quite heady. The smells, the noise, and the bustle are all captured and leap off the page transporting the reader with her as she rides in a taxi with her contact, Sita Banerjee, experiencing India at a time when Hippies were looking for the answers to life and the universe with Gurus and holy men.
I won't give anything away but the intensity of the feelings the three friends share does not diminish once they've left university and we follow their lives through the 1970's and 1980's.
Max disappears abroad, having adventures as a travel writer. Harry is more of a plodder, the reliable one whose career stretches ahead of him - all planned out and predictable. Lily becomes a businesswoman and is the thread which binds them. There's a connection even when they are not in touch for ages.
Eventually there is a marriage and children – I won't say with whom – and all the complications that arise when three people fall in love with each other and inevitably along the way someone has to lose out.
An enjoyable read with lots of atmosphere and little touches which bring the city of Oxford alive during the 1960s and which gives a glimpse of life for women heading into the 1970s and beyond, when anything and everything was possible.
All of Margaret's other books from the Charton Minster series are available to buy too. See her author page here.