I am delighted to be sharing readers reviews of the latest great Legend Press novels. My thanks to Lucy.
Nicki Howells

Betsy & Lilibet by Sophie Duffy
The year is 1926, and in London 2 baby girls are born on the same day, hours apart-but also world's apart.....one is born into a family of undertakers and the other into royalty.
This story alternates between 2016 and the past.....I'm not a big fan of stories that flit back and forth as it can get confusing, but this story is written so well it isn't confusing at all.
This book takes you on a 90 year journey through the life of Betsy, with some familiar events, some sad events and some funny parts.....a couple even made me laugh out loud!!
The story has some surprising twists and turns, and also some thought provoking moments. It is a well written book and was very easy to get into...I actually read it in 9 hours.....I really enjoyed it and couldn't put it down!
It is a totally different book to the ones I usually read, but i highly recommend this one, Sophie has written a great story here-it has the feel of an autobiography rather than a fictional story.
Beverley Ann Hopper
This book starts in 1926 London, about the birth of two babies born on the same day. one is Queen Elizabeth and the other is Betsy Sunshine. Betsy's family own and run the funeral directors Sunshine and Son. I loved reading this book and found it enchanting. this is my first by this author and it was utterly charming all the way through. What more can I say? I loved it.
Janice Rosser
I am a big fan of Sophie Duffy novels so was eagerly awaiting this one! It is 1926 and two babies are born on the same day, literally hours apart. Betsy (real name Elizabeth) and Lilibet, the future Queen Elizabeth 11. Betsy is born into a family of Undertakers and the future Queen into royalty.
The novel takes us through 90 years of very turbulent times in the 20th Century. The chapters alternate between 2016 and the past years. Betsy and Lilibet are destined to meet three times throughout their lives on very different occasions. Betsy tells the story and recalls the dark days of World War 11 and the very busy role the Undertakers took during that period. Sophie's research into the Undertakers trade is fascinating! Betsy recalls many important events from V E Day, the Coronation, the troubles in Ireland, the untimely death of Princess Diana and the immense grief that caused the nation, plus others right up to 2016. We also read about other family members lives and all in all a fascinating read that I did not want to end.
Beverley Ann Hopper
Pieces of Me by Natalie Hart
Overall a heartbreaking read about Emma and Adam. I found this book a little slow at the start but soon got into the story as I kept reading, heartbreaking of a married couple that will pull at you heartstrings. Adam comes home from Iraq to Colarado to join Emma then becomes under a lot of stress. it is a book that will bring tears to your eyes, so full of emotions. I enjoyed it.
Heather Copping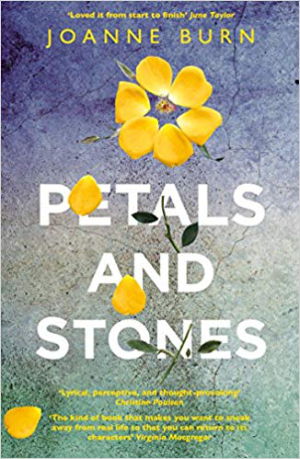 Petal and Stones by Joanne Burn
This book is set in dual timelines, 1997 where we learn how Uma and Daniel meet and how Pippa and Aaron, the friends from university fit into their lives.
Jumping onto 2015 and Uma, whose life goes terribly wrong all in one evening, when she not only learns that her husband is having an affair, but he is also killed on that same snowy night in an accident on the M1. She manages to get through the funeral with the help of family and friends but always at the back of her mind is the thought of "who is the other woman"?
To help her get through her grief she is offered the chance to stay in a very old and derelict holiday home on the coast. Only then does Uma start to sort out her life and emotions, finding solace and happiness in cooking traditional Indian cooking. Very soon a neighbour Richard comes into her life.
Will she make a new relationship work with Richard? Will she ever find out the truth about her husband's affair and will her friends stick by her?
A 4☆ read full of emotions and secrets with a couple of threads that run through the book to keep you interested to the last pages.
Author Margaret James has written extended reviews of Betsy and Lilibet and All that was Lost. See here and here.
Lead image copyright Legend Press and used with permission.