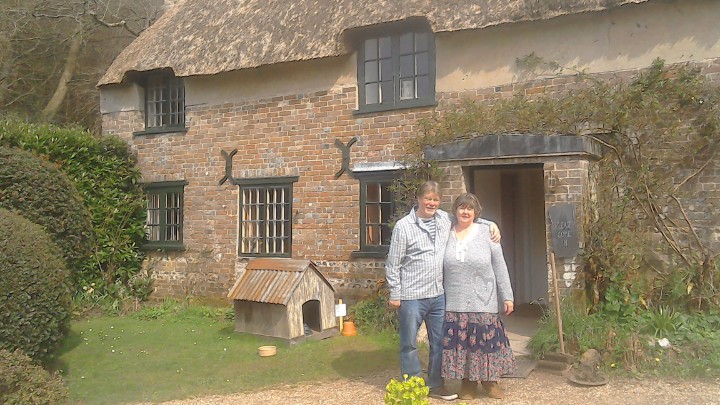 Thomas Hardy the novelist was born in this beautiful cottage on 2nd June 1840. And lived there until he married, when he was 45 years of age. When he moved with his wife, to Max Gate, the house he had built, only 3 miles away.
The cottage itself, takes the visitor back to days gone by in the 19th century, and was built by Thomas's grandfather in a really beautiful spot. The visitor can do a 35 minute walk through a wood, or 15 minute walk down the lane to the cottage.
On arrival at this National Trust Property, there is a fairly large car park, past the wooden building which houses a very nice cafe, toilets, the desk to check in, and items for sale.
We had a very nice light lunch there, with a superb cup of tea.
When four of us checked in at the desk, we were given a small plastic disc to present to the person in a small hut which has been built at the entrance to the cottage.
However! For disabled people, there could be a problem!
From the car park to checking in, there is a small walk on quite an incline. There is one small space to park for disabled people off the road a bit nearer to the entrance, but still quite a small uphill walk to use the toilets and have a cup of tea, and check in.
Apparently a disabled person can drive down the lane and park opposite the cottage. From what we could see, there were approximately 3 disabled spaces. The cottage itself is not wheelchair friendly, because it is very small inside, as thatched cottages are, and in the garden, the paths are covered in shingle. And at the beginning, the access to the facilities is not easy.
We enjoyed our visit, but being disabled myself, I experienced the pitfalls. My thought is, it would be better to check in at the small hut by the cottage itself, but am guessing they have no internet down there.
My advice for anyone with difficulty walking, is to be dropped off by the facilities, and then drive down the lane to the cottage.
It can be very disappointing for people who are disabled, and I hope this review helps!