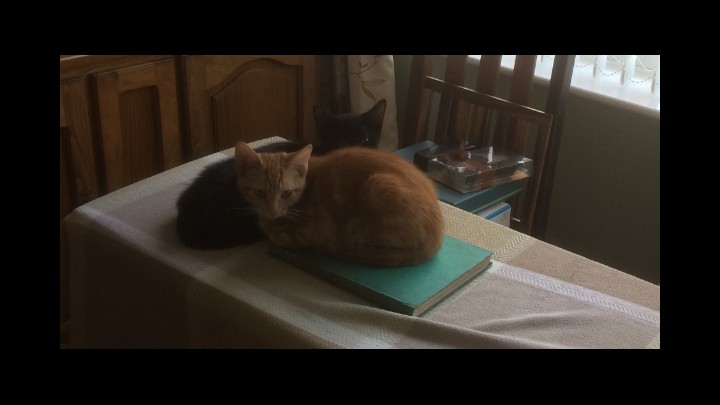 I am a lover of cats, always have been since I was a little girl. My earliest memory is one of me sitting in my back garden, age about 6 - 7 I think, holding a cat called Nicky on my knee. See photo below.
I don't know who looks more apprehensive below!
My beloved Nicky as a kitten
I haven't owned any cats for the past few years, so when my son and daughter in law asked me if I would look after their newly acquired kittens for a few days, I agreed and George and Sharkey were collected from Birmingham and driven back to Hereford albeit rather noisily!
At first, they were both very shy and nervous, but also very curious. George and Sharkey are brothers and were found abandoned. They have been given a new lease of life by Jim and Toni and have had their first holiday with me!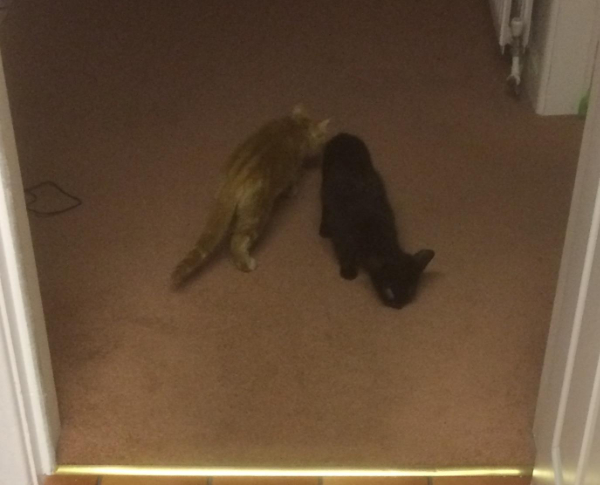 Time for treats!
Not content to sit quietly, the first few hours in my house were spent behind my freezer and washing machine. Slowly each one of them would emerge when they heard food being placed in their feeding bowls. If I ventured a few feet near them, they would both shoot off back to their hiding places. Having said that, they both used the litter tray and did not miss all the time I had them here. Very impressive!
Peepo! says George to Sharkey!
On the second day, they decided that venturing into my lounge may be a safe thing to do. It proved to be their favourite place and they explored every inch. Never far from each others side, no area was left uncovered. They LOVE their tunnel with its many in and out pockets and spent hours darting and chasing each other.
Up onto the dining table, the coffee table, the TV table, then on the third evening, they both jumped up as far as Derek's knee and then my knee on the sofa! George and Sharkey soon began to purr. If I tried to stroke Sharkey however, he jumped off.
Trust and relaxation
After a little while on our knees, it was playtime again. Careering up the stairs at what sounded like 100mph, they would spend a mad half hour wrestling with each other on the stairs and chasing Mr Larkin's ball that I keep here. (Don't tell him will you?!)
'I managed to climb up the landing window curtain Sharkey - you want to try??'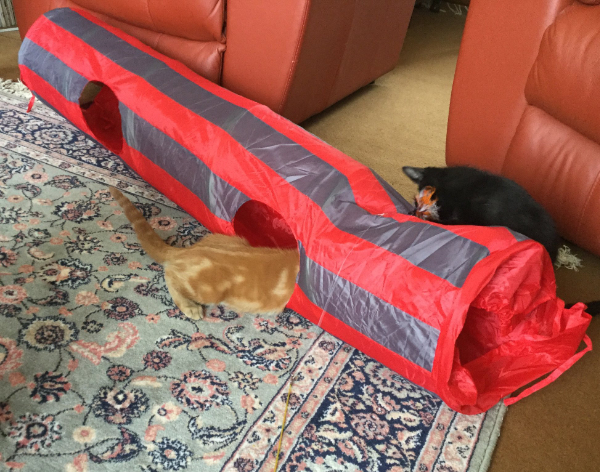 The tunnel of love and fun.
When I had my meals in the kitchen, it was generally George who would decide to jump up on the table and come over to inspect what I was eating. One morning he decided it would be fun to knock the key rings off their holders.
By the fourth day, Sharkey, the more nervous kitten, decided that maybe I wasn't so bad after all and agreed to be stroked for a few seconds. BUT only a few.
Day five and the last full day at my house. Apart from being banned from the bedrooms, no room was left unexplored. Both kittens were now very confident and let me stroke them at will.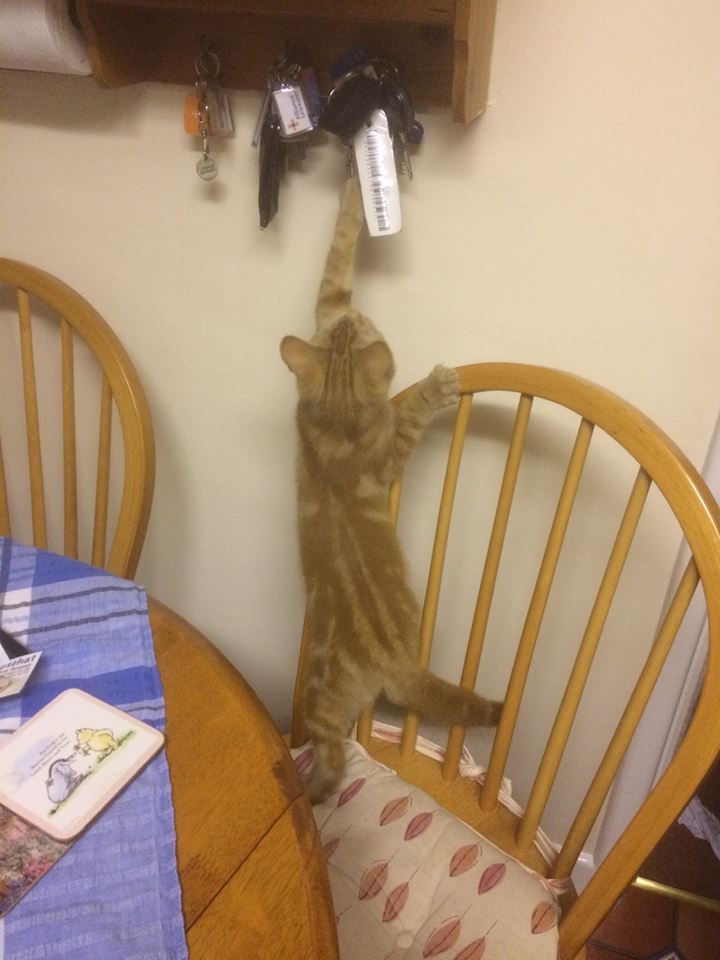 Why is this flipping key ring so high up?!
And so Day six had arrived and it was time to make the return journey to Birmingham. This would be a relatively simple process - right??
Um NO, definitely NOT!
The cat basket flap had decided to unzip itself and could Derek and I mend it? NO! After two hours of unsuccessfully attempting to catch both kittens and place in a big make do box, I resorted to asking my neighbour and good friend Chris for Mr Larkin's cage that he used to use as a puppy.
This proved to be a new adventure for both George and Sharkey. After placing the unbroken part of the cat basket inside the cage, they both jumped in straight away and started to play!!!!! Deep breaths from us and so we could begin the return journey at last! A
Back where they belong on their favourite perches! Photo copyright Toni Rosser
Safely arriving in Birmingham after another noisy journey, both kittens were reacquainted with Toni and their familiar surroundings.
I have to admit to finding my house eerily quiet now after last week and I do miss having them around. They are both lovely kittens who have been given a second chance of life and I know that they will have a very happy and loving time growing up with Jim and Toni.
UPDATE! As you can see from the above photo, they have really grown!! This was taken on August 14th 2019.