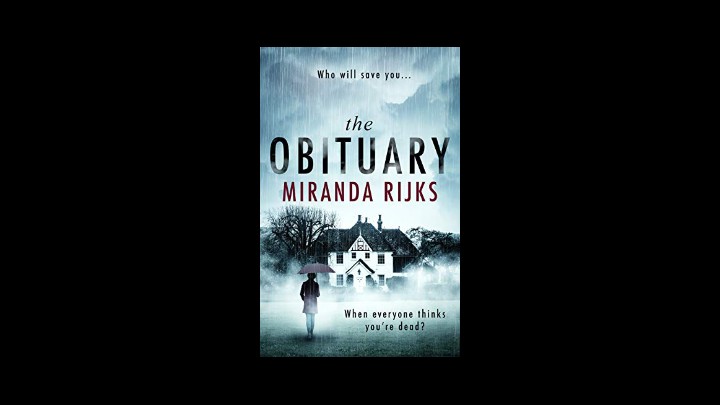 When Laura Swallow's sister dies on a busy road, at first Laura accepts it was a tragic accident.
Laura is coping with the aftermath of divorce. She is doing her best to get back into the world of work, to be a good single parent to a demanding teenage daughter, and hoping that one day she might find herself in a rewarding new relationship. She does well in her new job as an estate agent – so well, in fact, that she's told she is in line for a directorship. So she's putting her life back together. She's even dating again and is enjoying going out with Ben, a doctor at the local hospital.
Then everything starts to go wrong. It begins with a post on Facebook announcing Laura's death, which freaks out her daughter Mel and puzzles Laura, too. Perhaps a Facebook user has got Laura confused with somebody else? A former school friend turns up, books a viewing at a house where he and Laura meet alone, makes a clumsy pass at Laura, is rebuffed, and then her employer receives a letter accusing Laura of making a pass at a client. Laura's boss is furious and chooses to believe Laura is the guilty party.
Laura is suspended from work, but her friends Jenny and Anna rally round, seems more than willing to help her through this difficult time. But who is so determined to make Laura's life so difficult? Why would her ex-husband Ian, now with a new partner and the father of a baby boy, want to hurt his ex-wife? Why would a former school friend want to get Laura sacked, even if she wasn't very kind to him when they were still children? What about Laura's new friend Ben – is he genuinely looking for love, or is he a devious manipulator, a serial dater, or even a rapist?
The story is written in the first person present tense, which helps to rack up the tension. The reader knows no more than Laura does, and I desperately wanted to know who was so keen to hurt Laura. I felt her growing panic and fear to the extent that when I was reading this novel late at night I actually got out of bed and went downstairs to double-check I had locked the front door.
I was gripped by this fast-paced story, which reminded me how easy it might be to convince a sane, rational person that he or she is, in fact, going mad. I raced through the final chapters so I could find out who was so anxious to hurt or maybe even kill Laura – but why?
This is a fabulous debut by an exciting new novelist.