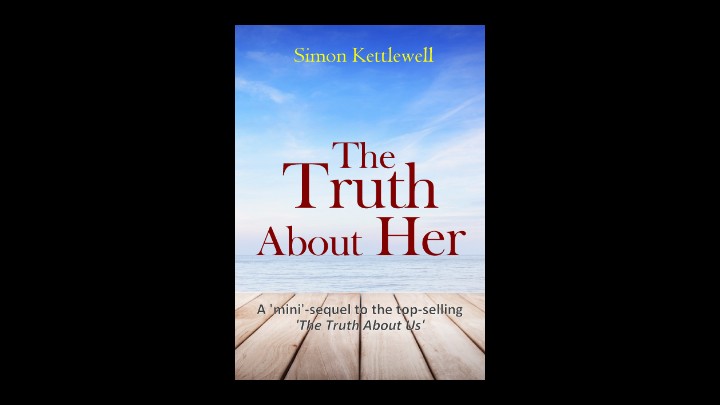 British author Simon Kettlewell's novel The Truth About Us sold 25,000 copies and touched the hearts of thousands of readers.
It introduced us to Gordon and Nell, a middle-aged married couple living unremarkable lives in suburbia, and it explored what happened to them and their relationship when Gordon's mistress Cath came to stay.
Readers loved Nell and wanted to know what happened after Cath decided it was time to move on. So Simon wrote a follow-up novella all about Nell.
What did Nell do next? What could a woman whose husband is a conceited, unrepentant, bullying adulterer do next? Why, for that matter, did someone like Nell marry Gordon in the first place? Well, people do! So anyway, Nell took stock of her life and finally decided that if other people could move on, so could she.
Gordon had other plans and felt that now Cath had gone, he and Nell could carry on as if nothing had happened. As Gordon points out to Nell, he's the one with the money and she has nothing. When she asks him for a cash injection so she can do some travelling – without you, Gordon – he laughs. So Nell consults a solicitor and threatens Gordon with divorce if he doesn't stump up.
Nell gets her way and, fighting down her fears, off she goes all by herself. When she was a little girl, she circled an island in the family atlas and promised herself that one day she'd travel to Kenya. At last, she actually does it, and soon she's dealing with the heat, the confusion, the poverty and a completely alien culture in order to find something she is sure must be there. But what could it be?
Simon paints some wonderful pictures of Kenya, showing the reader the beauty, the squalor, the injustice and the optimism of this African country and its people. It's here that Nell rediscovers the little girl who looked at that atlas and promised herself a big adventure, sixty years ago.
It's so easy for many of us, especially in the comparatively pampered West, to stay in our comfort zones, even if these comfort zones aren't remotely comfortable any more. Fear of the unknown is a powerful emotion, and plenty of us are too scared to strike out on our own, preferring to stay in difficult or even abusive relationships than to risk being alone. So I cheered for Nell when she did find the courage to defy her absolute **** of a husband and seek out her own hopeful-ever-after, which in Nell's case involved flying from Heathrow alone, trusting strangers, riding on a motorbike without a helmet, and engaging with people whose lives were very different from her own.
I'd kind of like to know what Gordon thought about Nell's behaviour. Did he finally learn to respect his wife? Or did he decide to cut his losses, let her have a divorce and her half of their worldly goods, and send her on her way? Did he learn a valuable lesson or two? Or would he always believe he was in the right – a man more sinned against than sinning? Maybe Gordon's story needs to be told?
Simon's writing is fluent, warm and sympathetic, and this is an uplifting, optimistic read which should inspire anyone, male or female, to be brave.
You can buy the book directly from Amazon by clicking on the above image.